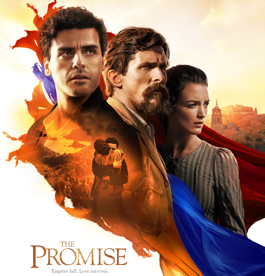 The Promise Film
Using films can be an important way to help students make connections to the past. The Promise is a historical fiction film that conveys a multi-perspective history of the Armenian Genocide. As the plot of The Promise unfolds in the Ottoman Empire during 1914, on the brink of its entrance into the First World War and the Armenian Genocide, viewers discover the symbolic love between friends, family, and one's national identity. The Promise shares the story of Ottoman Armenian people and the brave men and women who risked their lives to help save them from complete annihilation.
Classroom and Family Activities

Classroom Activities
Designed for middle and high school students, these classroom activities guide students through exploration of themes related to the Armenian Genocide like "us vs. them" and the role different stakeholders played in publicizing the genocide and providing relief – ending in exploration of current examples of U.S. involvement in other countries that are experiencing crisis, conflict, and/or genocide.

Family Activity
This guide contains support for you and your family as you learn more about the Armenian Genocide and the lessons that we can take from it today. This activity follows a Discuss, Watch, Act format to guide your family in making connections between the past, and current events, to find ways to take action to promote understanding, compassion, and remembrance.
Supporting Testimony Clips